When should your child see a pediatric urologist?
September 23, 2021
When your child is in pain or experiencing significant discomfort and you don't know exactly why, it can be heartbreaking. When their symptoms are caused by a complication with their kidney, bladder, urinary tract, or genitalia, it can be particularly difficult to pinpoint or get them to even talk about.
Pediatric urologists have specialized training in diagnosing and treating urinary tract and genital organ problems in infants, children, and teens. We help our young patients and their parents deal with everything from bedwetting to kidney stones and urinary tract infections to inguinal hernias.
Here is a sample of conditions the pediatric urologists at UT Southwestern treat:
Inguinal hernias, or bulges of abdominal contents.
Hydroceles, which are fluid collections around the testicle.
Hydronephrosis/hydroureter (Extra fluid visible in kidneys or ureter). While this sounds scary, 90% of cases in newborns are mild and go away on their own.
Ureteropelvic junction obstruction, which is the most common cause of a blocked kidney and is often treated with minimally invasive surgery with overnight hospital stay.
Hypospadias, which is abnormal development of the penis and urinary opening urethral opening in boys.
Kidney stones, which are becoming increasingly common in children.
Neurogenic bladder, which is reduced bladder control due to a brain, spinal cord, or nerve problem.
Recurrent urinary tract infections.
Vesicoureteral reflux, which is abnormal flow of urine from your bladder back to the kidneys.
Undescended testes and retractile testes.
Circumcision-related issues. (This includes getting circumcised if it wasn't possible right after birth.)
For parents, it can be stressful to learn your child might need to see a pediatric urologist, but it doesn't automatically mean something is terribly wrong or that surgery will be necessary. Your child might be referred because of a finding during an imaging test, and it turns out to be minor. Or your child could be referred for surgery, but it turns out surgery is not necessary.
Though we are expert surgeons, less than half of our patients need surgery. Even if your child does need surgery, the vast majority we perform are outpatient surgeries or with an overnight observation.
Our providers are skilled at putting children and families at ease and understanding discomfort and pain that they may not be able to easily explain. The Children's Health Child Life specialists provide age-appropriate patient information and support services for the whole family especially with imaging tests in the radiology department.
UTSW is one of a few centers in the region to offer prenatal care for urologic conditions, counseling pregnant mothers whose babies are suspected to have or have been diagnosed with a congenital urologic condition before they are born.
What to expect when seeing a pediatric urologist
Following a discussion about your child's medical history, prior testing, and symptoms, we will do a physical examination. From there, we'll decide with you whether to proceed with any testing to help make a diagnose or rule out issues. Sometimes, based on the history and prior evaluation, we will schedule further imaging to try to facilitate your child's care.
Children's Health is the only program in the area to offer ultrasound cystogram, a bladder imaging study, in addition to fluoroscopic cystogram and the full spectrum of imaging options that pediatric urologists use. Ultrasound does not use radiation, so you can safely stay with your child throughout the ultrasound cystogram, which may be more comfortable for your child. Child life specialists in the Children's Health radiology department are trained to help alleviate children's fears when undergoing such tests.
At the end of the visit, we will thoroughly explain your child's condition, often using drawings to help explain. We'll discuss potential treatment options including risks and benefits of each, and answer all your questions so you can make an informed, confident decision.
Get to Know the UTSW Pediatric Group
At more than 300 physicians strong, the UT Southwestern Pediatric Group is one of the largest teams in Texas. When a child comes to see us they're getting not only the expertise of their pediatrician but also the collective care of all our specialists.
A team approach to care
Our specialists will work as a team to treat your child. For example, we have very experienced nurse practitioners in our group who focus on helping children with voiding problems such as daytime urinary accidents, frequent urination, urinary tract infections, constipation, and bedwetting.
In many cases of voiding problems, a child's treatment starts with behavior modification, such as learning to use the bathroom on a schedule or drinking less fluid before bedtime. There are also medication options for bedwetting, constipation, and frequent urination. Biofeedback is a treatment option to help children learn how to empty their bladder well which can help prevent urinary accidents and urinary tract infections.
If surgery is needed for things such as ureteropelvic junction obstruction (blocked kidney), we have a robust minimally invasive pediatric robotic surgery program, in which every pediatric urologist is robotics-certified. Robotic surgery offers less-invasive procedures and faster recovery times. Most children recover quickly from either minimally invasive or traditional surgery.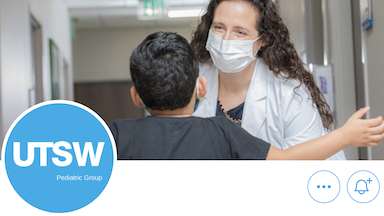 For the latest news, trends, and information on care for your children, follow the UT Southwestern Pediatric Group on Twitter.
Calm, reassuring urology care
We are committed to better understanding and advancing treatment of pediatric urologic conditions. UT Southwestern researchers study the causes of various conditions, including Linda Baker's lab, which studies prune belly syndrome as well as many other congenital kidney and bladder abnormalities.
Clinical trials are key in our research, and our group is currently participating in a study to determine how to best prevent kidney stones and optimize care after kidney stone surgery.
No matter the condition, we are dedicated to making your child's experience calm and reassuring. In addition to our group of pediatric urologists, we work closely with specialists in many disciplines such as nephrology, neurosurgery, gastroenterology, and general surgery. Any specialized care your child might need is available under the same roof at UTSW and Children's Health.
We have several clinic locations in the Dallas area including Dallas, Plano, Rockwall, Park Cities, and Tyler. If you'd like to schedule an appointment with one of our pediatric urologists in Plano, call 877-365-0036 or request an appointment online. For appointments in Dallas, Rockwall, or Tyler please call 214-456-2444. For appointments in Park Cities (clinic at Texas Health Presbyterian Hospital) please call 469-488-7000.
To visit with a pediatric urologist, call 469-497-2500 or request an appointment online.
Existing patients may also schedule an appointment using MyChart.